Light & Colors: Simulating the Optical Properties of Nanoparticles
Do you ever wonder if the sky looks the same on other planets as it does on Earth?
Sandia is the Spanish world for "watermelon," and it is widely believed that Albuquerque's own Sandia Mountains were given their name because, during the sunset, they turn red. But have you ever wondered why this happens? Why is the sky blue during the day, but red during the sunrise and sunset? You might be surprised to learn that the mechanism behind stained glass windows is related to these questions. From the times of ancient Egyptians and Romans through modern day, stained glass has been manufactured to produce vivid colors, but how does that work? How could ancient people produce and control this behavior?
By participating in this event, students will be exposed to software and coding, and work in the lab with Dr. Manjavacas, Assistant Professor in Physics, to learn how light interacts with small objects or nanoscale matter crucial for the development of nanotechnology, which enables:
More efficient solar energy harvesting
Improved technology for healthcare
Vivid color printing
Applications in security
SCHEDULE
Friday, November 16, 2018
2 to 5 pm
Regener Hall, Rm 118 (bldg. 35 on campus map).
INSTRUCTOR
Dr. Alejandro Manjavacas, Assistant Professor in Physics, Department of Physics & Astronomy
Registration Deadline:
Nov 15, 2018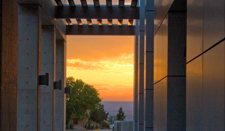 Instructor: Dr. Alejandro Manjavacas, Assistant Professor in Physics, Dept of Physics & Astronomy
Who can attend: Undergraduate Students - Freshmen and Sophomores are Encouraged to Register!
Meet at: 2 to 5 pm
Location: Regener Hall, Room 118 (bldg 35 on campus map)
What to bring: Your curiosity!
Days: Friday, November 16, 2018 from 2 to 5 pm
Type: Workshop