Free Friday Fractal Show @ NM Museum of Natural History and Science
Did you know that Albuquerque is the fractal capital of the world thanks to the amazing work of The Fractal Foundation and their spectacular monthly show, First Friday Fractals, at the NM Museum of Natural History and Science?

At this event. UNM undergraduate students will discover the science, math, and art of fractals. Fractals are the geometric visual patterns generated by various mathematical equations. An award-winning immersive experience led by Fractal Foundation educators, the full-dome planetarium show will take you on a tour of fractals by zooming through infinitely complex mathematical fractals. Featuring original music, chairs you sink deeper into as the show goes on and educational commentary throughout the show's remarkable visuals, Fractal Fridays is one of Albuquerque's best events available to Lobos.
Food and transportation provided.
SCHEDULE
Friday, July 6, 2018
5 to 6 pm - students will meet in the STEM Collaborative Center Classroom, EDU 212 (bldg. 67 on campus map) for PIZZA
6 to 6:30 - depart for the NM Museum of Natural History and Science
7:00 pm Fractal Show Begins
After the show, students can check out the space sciences wing of the Museum.
8:30 pm - depart NM Museum of Natural History and Science for UNM Campus
Father of "fractal geometry" and the term "fractals": Benoit B. Mandelbrot is recognized for his contribution to the field of fractal geometry, which included coining the word "fractal", as well as developing a theory of "roughness and self-similarity" in nature. In 1979, he discovered the Mandelbrot set in which he showed how visual complexity can be created from simple rules. He said that things typically considered to be "rough", a "mess" or "chaotic", like clouds or shorelines, actually had a "degree of order."
Registration Deadline:
Jul 2, 2018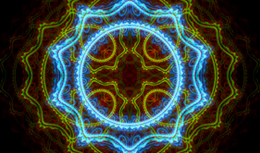 Instructor: STEM Collaborative Center
Who can attend: Undergraduate Students!
Meet at: 5:00 pm
Location: STEM Collaborative Center Classroom, EDU 212
What to bring: Your curiosity about fractals, math, chaos theory, etc.
Days: Friday, July 6, 2018 from 5 to 8:30 pm
Type: Trip