Mentor New Freshmen at Discover Your Science Festival
Hey, STEM students! We need you to volunteer at the Discover Your Science Festival (DYS) on Saturday, October 20th.
(Note: if you want to attend the festival as a new freshman instead of a volunteer, click here.)
We have more than 150 incoming Freshmen coming to UNM for a day filled with fun STEM activities. Come help us show these students that they are part of the UNM STEM team. It's a great opportunity to recruit freshmen into your student organization.
All volunteers get free lunch.
There are a lot of options for volunteering, including half day, full day, and individual time slots. Volunteer slots start as early as 8:30 AM and finish up around 6:30 PM. Invite your friends to volunteer, too!!!!
The volunteer sign up form is live. Use this form to indicate your availabiliy for October 20, 2018.
Learn more about DYS here: Discover Your Science
Questions? Contact us at stem@unm.edu or 505-277-0878
Registration Deadline:
Oct 12, 2018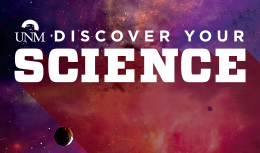 Instructor: you!
Who can attend: UNM undergraduate students, alumni, staff, or faculty
Meet at: STEM Collaborative Center, EDUC, 212 - http://stem.unm.edu/contact-us.html
Location: STEM Collaborative Center, EDUC, 212 - http://stem.unm.edu/contact-us.html
What to bring: yourself, water bottle, comfortable shoes, and your tips about STEM success at UNM!
Days: Saturday, October 20, 2018, various times between 8:30 AM and 6:30 PM
Type: Conference