Designing Chaos: A Fractal Experience
The Fractal Foundation defines fractals as a never-ending pattern. They are infinitely complex patterns that are self-similar across different scales and they are created by repeating a simple process over and over in an ongoing feedback loop. Driven by recursion, fractals are images of dynamic systems - the pictures of Chaos.
Learn more about fractals and create your own fractal in an interactive workshop lead by UNM instructor Joel Castellanos from the Department of Computer Science.
The workshop will be held at the STEM Collaborative Center Classroom (Room #212), Education Classroom (EDUC) Building #67 on Wednesday October 11, 2017 from 2pm-5pm.
Registration Deadline:
Oct 11, 2017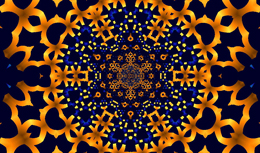 Instructor: Joel Castellanos, Department of Computer Science
Who can attend: Any undergraduate student. Freshmen and sophomore students are encouraged to register.
Meet at: STEM Collaborative Center Classroom, EDU 212
Location: STEM Collaborative Center Classroom, EDU 212
What to bring:
Days: Wednesday, October 11, 2017 from 2PM-5PM
Type: Workshop