Caving at El Malpais National Monument
Students will explore the ecosystem and ecology of lava caves at El Malpais National Monument in New Mexico with Dr. Diana Northup , Instructor for Freshmen Learning Communities First Year Experience. The lava tube is a cold trap and illustrates an environment in which life is adapted to low nutrients and cold temperatures. Bat bones can be see on the floor, and collembola and mites are found on the surface of small pools in cracks. A luxuriant moss garden exists under the skylights and is home to a variety of invertebrates. Microbial mats line the walls in the twilight and dark zones and have been shown to harbor a variety of bacterial life. In the twilight zone, algal mats can be seen adjacent to the bacterial mats. On the drive to the lava tube, students can see the lava flows and craters.
PREP SESSION - Required for the Field Trip
Wednesday, September 6, 2017 from 2 to 3 pm in the STEM Collaborative Center Classroom, EDU 212 (bldg. 67 on campus map). See link for directions - http://stem.unm.edu/contact-us.html
Students will learn about Dr. Northup's research, gain an understanding of what to look for in the lava tube caves, and learn about caving protocol and how to take field notes.
FIELD TRIP to EL MALPAIS NATIONAL MONUMENT
Saturday, September 9, 2017
8:30 am Sign-In will take place in the STEM Collaborative Center Classroom.
9:00 am - depart UNM campus for El Malpais National Monument
4:00 pm - return to UNM campus
Transportation, lunch and snacks provided.
FIELD TRIP REQUIREMENTS
Students are required to attend the "Prep Session".
Students must be able to hike 1 mile over rough terrain
Students must wear hiking boots or tennis shoes - no sandals or open toed shoes
Students must bring a small backpack and water bottle - bottle water will be available
Notepad for taking field notes.
FIELD TRIP RECOMMENDATIONS
Bring a jacket as cave temperatures can be as cold as 34 degrees Fahrenheit - layer clothing.
Wear a hat and sunglasses and bring sunscreen as needed.
Bring a small flashlight.
Registration Deadline:
Aug 28, 2017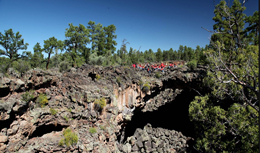 Instructor: Dr. Diana Northup, Instructor Freshmen Learning Communities First Year Experience
Who can attend: Any undergraduate student - freshmen and sophomore students encouraged to register!
Meet at: Wednesday, September 6 from 2-3 pm; Saturday, September 9 from 8:30 am-4 pm
Location: STEM Collaborative Center Classroom, EDU 212 (bldg. 67 on campus map)
What to bring: Your curiosity!
Days: Prep Session: Wed., Sep 6 from 2-3 pm; Field Trip: Sat., Sep., 9 from 8:30 am-4 pm
Type: Project + Trip