Swarm Robotics: Wisdom of the Crowd!
Through this event, students will work in teams to program small robots - swarms - to conduct simple tasks and compete to see which team's robot can successfully complete assigned tasks. Students will also learn about the communications systems used by swarm robotics. This project will be led by Dr. Rafael Fierro, Professor in the Department of Electrical and Computer Engineering. Dr. Fierro's Multi-Agent, Robotics, and Heterogeneous Systems Lab highlights the research he and his students are conducting.
Check back soon for more details.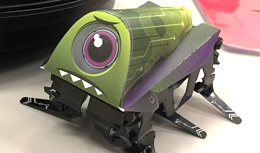 Instructor: Dr. Rafael Fierro, Professor, Department of Electrical and Computer Engineering
Who can attend: Any undergraduate student. Freshmen and sophomore students are encouraged to register.
Meet at: STEM Collaborative Center Classroom, EDU 212 (bldg. 67 on campus map)
Location: STEM Collaborative Center Classroom, EDU 212 (bldg. 67 on campus map)
What to bring: Your curiosity about swarm robotics and willingness to learn!
Days: Fall 2017
Type: Project