Radiation Science: Tour the Nuclear Weapons Instructional Museum at Kirtland
Students must be a U.S. Citizen to participate in this event. See "requirements" below.
Through this event, students will learn basic Radiation Science through the Defense Nuclear Weapons School, part of the Defense Threat Reduction Agency (DTRA), located at Kirtland Air Force Base and then tour the Nuclear Weapons Instructional Museum (NWIM), the only such classified Museum in the Department of Defense.
Students will gain a historical perspective on the unique artifacts of historical significance. Touring the Museum display affords students and visitors a rare opportunity to view exhibits and to discuss stockpile issues with experienced instructors.
The Museum is an irreplaceable repository that traces the history and development of the U.S. nuclear weapons stockpile from its inception to the present.
SCHEDULE and LOCATION - Transportation Provided
12:45 PM - Sign-In at the STEM Collaborative Center (STCC) Classroom, EDU 212 (bldg. 67 on campus map). See directions to Classroom - http://stem.unm.edu/contact-us.html
1:00 PM - Depart for Kirtland Air Force Base, enter through security
2:00 to 3:15 PM - Presentation on Basic Radiation Science and Nuclear Weapons Radiological Dispersal Devices
3:15 to 4:15 PM - Tour of the Nuclear Weapons Instructional Museum
4:15 to 4:30 PM - Presentation on DTRA Internships and Job Opportunities presented by DTRA Human Resources
5:00 PM - Arrive back on UNM Main Campus
REQUIREMENTS

Students must be a U.S. Citizen
Students must show proof of U.S. Citizenship prior to 12 noon on Tuesday, September 26 by taking their passport OR birth certificate and driver's license by to the UNM Security Office. Further details on this process will be provided after you register.
Registration Deadline:
Sep 19, 2017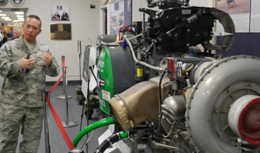 Instructor: Captain Brad Jones, USAF Nuclear Safety Assessment, and Major Bruce Hill, USAF Operations Chief/Public Affairs Chief/Instructor
Who can attend: UNM undergraduate students. Freshmen and sophomore students are encouraged to register.
Meet at: 12:45 PM to Sign-In as Trip/Tour Departure Time is 1 PM
Location: Meet at the STEM Collaborative Center Classroom, EDU 212 (bldg. 67 on campus map)
What to bring: Your curiosity about Radiation Science!
Days: Tuesday, October 17, 2017 from 12:45 to 5 PM
Type: Trip