Explore Chaco Canyon!
Students will have an opportunity to participate in a field trip to Chaco Canyon led by Dr. Ted Jojola, Distinguished Professor and Regents' Professor in UNM's School of Architecture. With its distinct architecture and elaborate systems of structures and roads, students participating in this event will have an opportunity to interact with the environment of an ancient world and broaden their understanding of Chaco Indigenous Design elements and cuilture – agriculture, art, astronomy, engineering and social complexity.
Check back soon for more details.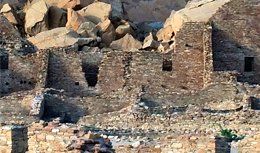 Instructor: Dr. Ted Jojola, Distinguished Professor and Regents' Professor, School of Architecture
Who can attend: Any undergraduate student. Freshmen and sophomore students are encouraged to register.
Meet at: STEM Collaborative Center Classroom, EDU 212
Location: Meet in the STEM Collaborative Center Classroom, EDU 212 (bldg. 67 on campus map)
What to bring: Your curiosity about, and interest in, Chaco Canyon!
Days: Fall 2017
Type: Trip