Women in STEM: Experiences, Discoveries & Opportunities
The "Women in STEM" event will highlight women in Science, Technology, Engineering and Mathematics (STEM) fields of study. Students interested in pursuing a STEM field of study or those majoring in a STEM field of study can network with UNM STEM Faculty and Guest Professionals working in STEM fields:
hear personal stories of success, opportunity and discoveries about STEM,
engage in dialogue with faculty and guests,
network with peers,
learn about internship and mentoring opportunities, and
receive career tips and success strategies.
Lunch will be provided by Garcia's Kitchen.
Check back soon for more details!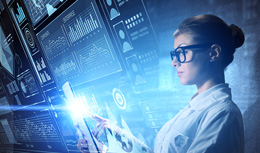 Instructor: UNM STEM Faculty and Guest Professionals Working in STEM Fields
Who can attend: Any undergraduate student. Freshmen and sophomore students encourage to register!
Meet at: Centennial Engineering Center
Location: Centennial Engineering Center
What to bring: Your curiosity about "What is STEM", your interest in pursuing a STEM field of study
Days: Fall 2017
Type: Workshop