Mentor New Freshmen at Discover Your Science Festival
Hey, STEM students! We need you to volunteer at the Discover Your Science Festival (DYS) on Saturday, August 19th.
We have more than 150 incoming Freshmen coming to UNM for a day filled with fun STEM activities. Come help us show these students that they are part of the UNM STEM team. It's a great opportunity to recruit freshmen into your student organization.
All volunteers get free lunch and entrance into a STEM movie night (The Martian) in the SUB after the Festival.
There are a lot of options for volunteering, including half day, full day, and individual time slots. Invite your friends to volunteer, too!!!! The volunteer sign up form is here. Volunteer slots start as early as 8:30 AM and finish up around 3:30 PM.
Provide your availability for volunteering here: https://goo.gl/forms/VLa26kwFwCawajTp1
Learn more about DYS here: Discover Your Science
Questions? Contact us at stem@unm.edu or 505-277-0878
Registration Deadline:
Aug 5, 2017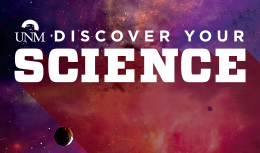 Instructor: You!
Who can attend: Anyone!
Meet at: UNM Main Campus, Centennial Engineering Center
Location: UNM Main Campus, Centennial Engineering Center
What to bring: Yourself and your tips about STEM success at UNM!
Days: Saturday, August 19, 2017, various times between 8:30 AM and 3:30 PM
Type: Conference